I've been meaning to do this challenge for months, since Lysi from Living One Day @ a Time did it last November. But due to me being busy and then moving (during which time my books were all packed), I wasn't able to do this challenge. But today I can! The main idea of this challenge is to find a book on your bookshelf to fit with the questions. And this challenge is deceptively difficult. Alright, let's get into it.
Do you have a book with deckled edges?
Technically, many of the books I buy secondhand have deckled edges, but I'm only counting the books I myself read so much they now have deckled edges. Honestly, it was hard to find any. I'm really careful with most of the books I own, and this one was the only one I could find on my bookshelf with poor, wounded edges! It's not horribly mangled, but I remember reading this book over and over again when I was a teenager.
Do you have a book with 3 or more people on the cover?
I don't even know why I still own this book, since it's so cringy throughout, but I love the history and society around London seasons, and it's a good thing I did keep this book, because I couldn't find another book I own with three or more people on the cover.
Do you have a book based on another fictional story?
This book was one of my favorites growing up, and is a retelling of Cinderella, though I honestly think this book is so much better than the original fairy tale!
Do you have a book with a title 10 letters long?
I went through EVERY SINGLE ONE OF MY BOOKS to find a title with 10 letters. But, apparently, my bookshelf hates me. I have many books that are eleven letters or nine letters, but only this one with ten. What are the odds?
Do you have a book with the title that starts and ends with the same letter?
Ssssss…anyway… I had the great opportunity to meet Caitlin Doughty and she signed this book. I'm about halfway through, but I only read it when I have nothing else to read. It's a great book, and I'm enjoying it much better then I enjoyed her second book, From Here to Eternity.
Do you have a Mass Market paperback book?
I'm not quite sure what constitutes a mass market paperback book (something about the size and thickness of pages), but I'm pretty sure this is it. For the record, my copy is much better cared for then this picture.
Do you have a book written by an author using a pen name?
For those who didn't know, George Orwell's real name was Eric Arthur Blair (it doesn't have quite the same ring to it as George Orwell, but it's certainly not a bad name).
Do you have a book with a character's name in the title?
I haven't actually read this book, but it's the only book I could find that I own with a character's name in the title. I do want to read this book soon, however!
Do you have a book with two maps in it?
This book doesn't just have two maps, but dozens. This is a nonfiction book of Eisenhower's experience commanding American troops in Europe during WWII. It's an excellent book which I happened to find in a thrift store a few years ago. All the maps picture different parts of Europe, often with troop movements indicated on the map.
Do you have a book that was turned into a TV show?
So, technically this book wasn't a TV series, only a miniseries, but I actually don't own any books that were made into full TV series (unless you include Nancy Drew, which is an answer to another challenge question). Also, I haven't read this book yet. I have enough extremely long classics to get through before getting to this one.
Do you have a book by someone originally famous for something else? (celebrity/athlete/politician/tv personality…)
For those who don't know, Clarence Thomas has been a Supreme Court Judge since 1991 in the USA. I admire him greatly and he's a brilliant man! I don't know much about this book, since I haven't read it yet, but it's a memoir about his father. I discovered it at the Goodwill a year or so ago (I feel like that is how I buy most of my books).
Do you have a book with a clock on the cover?
Surprisingly, this is the only book I own with a clock on the cover. Gosh, it's a good thing I own this one, or I'd have failed this challenge.
Do you have a poetry book?
So, I own the 3rd Edition, but I could only find a picture for the 2nd Edition. Close enough, I suppose. Honestly, I don't read much poetry (unless you include Shakespeare) and though I read more poetry online, this is the only poetry book I own.
Do you have a book with an award stamp on it?
My copy of this book has a "Winner of the Pulitzer Prize" on it. It follows a monk who witnesses a bridge breaking and five travelers falling and being trapped in the gulf below. The monk then risks his life to save them. I read it in high school and remember loving it, but I haven't read it in over a decade.
Do you have a book written by an author who has the same initials as you?
My initials are A.M. (I was hoping to find an author with A.E.M., which are my full initials, but that was too much to hope for), and this is the only author I own with those initials. I haven't read this book. It was optional reading in high school and I never got to read it, though it's been sitting on my bookshelf for years. I really have to pick it up and read it one of these days, but it is over 700 pages, so like every other long book, I avoid it.
Do you have a book of short stories?
I have many short story collections (The Complete Brothers Grimm, the Complete H.P. Lovecraft, etc.), but I'm going with this one. I stumbled upon it at the Goodwill and it only had a few authors I recognized. So I bought it. I'm a fifth of the way done, and I read one short story once in a while.
Do you have a book that is between 500 and 510 pages long?
This challenge was incredibly hard, like the title one. I would find a book, and it would be 520 pages or 480 pages. So close yet so far. And then I found this one, and my copy is exactly 500 pages. I haven't read this book yet, but the movie looked so good I wanted to read it before I watched the adaptation.
Do you have a book that was turned into a movie?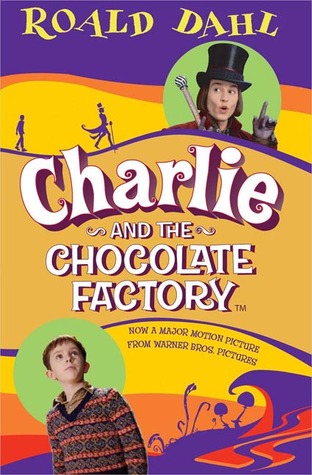 Who doesn't love this book? Though the newer movie wasn't amazing (it wasn't bad, but definitely not as good as the original), I loved this book as a child.
Do you have a graphic novel?
I was really close to getting rid of this graphic series (I own all 4 books), because the story is mediocre at best. But I'm a massive fan of the 1986 film Labyrinth starring David Bowie (dance, magic, dance!). I probably will get rid of this series soon, though.
Do you have a book written by 2 or more authors?
I know I mentioned this book recently on my blog, but it's the only book I could find on my shelf by two authors. I surprisingly don't have any other book written by multiple authors (unless you include short story collections, and I don't).
So there you have it. This challenge was a lot of work, and you should have seen the mess my room was in when I finished (books all over the floor!). However, I was able to complete every challenge, much to my surprise.
Do you have a book that fits all these categories? Have you read any of these books? Let me know your thoughts down in the comments, follow my blog for more musings and, as always,
Best wishes in your life full of adventure,
Madame Writer