Before you all say it, yes, I did just do a book haul like two months ago and I definitely have a problem with buying books. The good news is that once summer is over and I'm back in college, I probably won't have time to think of buying books, so that's good.
I recently made a trip to the Goodwill and was thrilled to find so many amazing books. Due to less people shopping and possibly more people donating (not sure, but that's my theory), the bookshelves and clothing hangers were packed. I found a three shirts and nine books for a total of $25. And some of the books are antique copies, which I love. Anyways, let's get into the books I bought.
Title: Murder Must Advertise (Lord Peter Wimsey #10) by Dorothy L. Sayers
Page Count: 356
My publication: 1995
Original Publication: 1933
Dorothy L. Sayers is a mystery writer like no other, and I've read a total four books in this series so far. Her books aren't just like mysteries, but also more examinations of human psychology. I've been wanting to read more of her books, so I was thrilled to find this one.
Apparently, it's about an ad man falling down the stairs at an advertising office, which at first appears to be an accident but Lord Wimsey is called and it is discovered to be something darker. Soon follow a total of five mysterious deaths. It sounds so interesting!
Title: The Da Vinci Code (Robert Langdon #2) by Dan Brown
Page Count: 605
My Publication: 2004
Original Publication: 2003
This book (and its series, honestly) has been on my list to read for years. One of the main reasons I've avoided it is that it's filled with historical inaccuracies, and I personally sometimes have trouble with books which are based on history but totally inaccurate. However, I heard its a great thriller and if I look at it as fiction, I think I'll enjoy it.
It follows Havard professor Robert Langdon as he pieces together the riddles which lead back to Leonardo Da Vinci. That's about all I know about it, but after I read the book I may watch the movie. I may also end up reading Angels and Demons, the first book of the series, before this one.
Title: The Da Vinci Hoax: Exposing the Errors in the Da Vinci Code by Carl E. Olson and Sandra Miesel
Page Count: 329
My publication: 2004
Original Publication: 2004
What a coincidence that I had picked up the Da Vinci Code and found this book like two shelves away. It seems like fate that I should find it, so I couldn't help but pick it up too. It breaks down the historical inaccuracies in the Da Vinci Code, and I hope to read it just after I read the Da Vinci Code. I already know a couple of the inaccuracies from the novel, but I look forward to see it broken down in more detail.
Title: The Tibetan Book of the Dead by Padma Sambhava, translated by Robert A. F. Thurman
Page Count: 275
My Publication: 1998
Original Publication: 1386
I just love books of the dead in general. I've read excerpts from the Egyptian book of the Dead and some about Mayan and Chinese death culture as well. When I saw this one, which is a Buddhist classic centering on Tibetan philosophy and the afterlife, I had to buy it.
It looks pretty dense, but I also appreciate that there multiple explanations to prayers and ideas, which I need, not knowing much about the depths of Buddhist philosophy.
Title: John Adams by David Cullough
Page Count: 751
My Publication: 2008
Original Publication: 2001
John Adams is perhaps one of my favorite founding fathers (and one of the few who didn't own slaves). The more I learn about him, the more I like him. Thus, I was thrilled to see this book, which is a biography of his life. As you can see by the cover, it was also used to make the HBO miniseries about him. I haven't watched the entire miniseries, but my mother did and I saw parts, and it looked so good. Eventually, I should watch the entire thing.
It is a massive book, though. Not including the index and source notes, the book is still 656 pages, which makes it pretty intimidating to read. And honestly, I do tend to procrastinate on long books…so we'll see how long it takes me to get to it.
Title: Moby Dick by Herman Melville
Page Count: 511
My Publication: 1925
Original Publication: 1851
This is a classic novel about a man obsessed with finding and killing a whale, and one I've been wanting to read for years. It also starts with one of the most famous lines in literature: "Call me Ishmael."
When I saw this very old copy at the Goodwill (for only $2), I had to buy it. It's in extremely great condition too for its age and smells amazing! I know, I'm weird for loving the smell of old books, but I also know a lot of people do, so at least I'm not alone.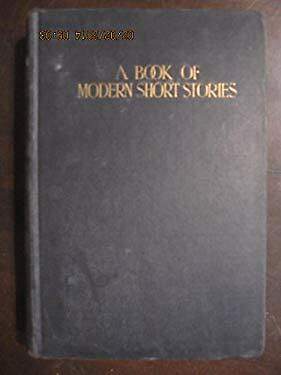 Title: A Book of Modern Short Stories edited by Dorothy Brewster
Page Count: 482
My Publication: 1928
Original Publication: 1928
Apologies for the horrible picture. This book was not on Goodreads, so I was forced to search the internet for a picture. Anyways, this book contains stories by James Joyce, Anton Chekhov, Willa Cather, Ernest Hemingway, and many more. It's funny that it's called "modern short stories," as all these stories now are classics but at the time were quite modern.
I've been enjoying reading more classic short stories recently, so I look forward to reading this and the next one on my list.
Title: Great Sea Stories edited by Joseph Lewis French
Page Count: 491
My Publication: 1943
Original Publication: 1921
This is my second short story collection on this list, however this one is mostly comprised of excepts from larger works, all focused on the sea. I have always found the sea fascinating, so mysterious and massive, and I'm excited to read this book. It contains authors like Wilkie Collins, James Fenmore Cooper, Victor Hugo, Jack London, Herman Melville, Edgar Allan Poe, Sir Walter Faleigh, Robert Louis Stevenson, among many more. I look forward to reading it, even if it's a pretty big book.
Title: The Four Horsemen of the Apocalypse (original title Los Cuatro Jinetes Del Apocalipsis) by Vicente Blasco Ibanez, translated by Charlotte Brewster Jordan
Page Count: 489
My Publication: 1919
Original Publication: 1916
This is a Spanish novel which follows two men (one French, one German) during WWI, who are both sons-in-law of an Argentinian land-owner. I was intrigued just by the title alone, and yet when I looked up the plot I realized how interesting it sounds. I have been recently reading a lot of books about WWI, and I look forward to reading one written in Spanish.
So, there is my book haul. Have you read any of these books? Do any of them look good to you? Let me know your thoughts down in the comments, follow my blog for more musings and, as always,
Best wishes in your life full of adventure,
Madame Writer