A couple weeks ago, I came across this challenge on the web. I found it here, but when I tried to find the original creator, the link didn't work. I've probably never mentioned this one my blog, but I have an absolutely horrible memory. I have a great short-term memory, but if you ask me six months after I finished a book what the details of it are, I will probably just stare at you blankly. I'm trying to get better at this by doing more recall exercises, but it is still a struggle.
This presents a problem with this challenge, because the whole point is that you "must answer these questions without looking anything up on the internet and without looking at your bookshelves." So this may be a challenge for me, but I'm always up for a challenge. Alright, let's go!
Name a book written by an author named Michael
This is easy, because I just finished Jurassic Park by Michael Crichton, so it's fresh in my mind.
Name a book with a dragon on the cover
The first book which comes to mind is Dealing With Dragons by Patricia C. Wrede. It's a great book which I haven't read in years.
Name a book about a character named George
The first character I can think of named George is George Cooper from The Song of the Lioness series by Tamora Pierce. Technically, he's not the main character, but he is a character, so it counts. I haven't read this series in over a decade, but I enjoyed it as a teen.
Name a book with an author with the surname of Smith
This is super easy, because I'm a massive fan of Sherwood Smith's books. One of my favorites (and perhaps one of her lesser known works) is The Trouble With Kings by Sherwood Smith.
Name a book set in Australia
I can't think of anyone off the top of my head. Give me a moment…Nope. This sounds horrible, but I'm not sure I've read a book set in Australia. I need to change this immediately…
(Note from me as I'm editing this. Apparently, I have read at least one book set in Australia: Dingoes at Dinnertime by Mary Pope Osborne, which is part of the Magic Tree House series. But you can't really blame me for not remembering.)
Name a book with the name of a month in the title
The first one which comes to mind is The Hunt for Red October by Tom Clancy (I couldn't remember who wrote it so I cheated on the author, just for reference). I love the movie, but I have not read the book.
Name a book with a knife on the cover
The only one I can think of is The Subtle Knife by Philip Pullman. It's the sequel to The Golden Compass and every cover I've seen has a knife on the cover.
Name a book with the word 'one' in the title
…Nope, can't think of one. Ha ha! Get it. I can't think of one…I'm horrible at jokes.
(Edit: I have read many books with one in the title, like One for Sorrow by Mary Downing Hahn, One Morning in Maine by Robert McCloskey, but for some reason I couldn't think of them when writing this post.)
Name a book with an eponymous title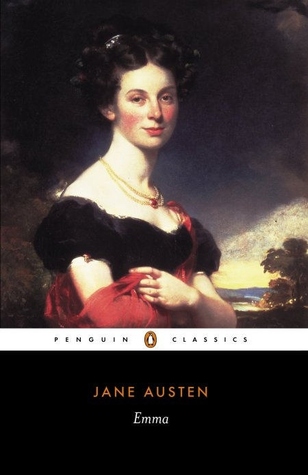 So, I've never heard of the word eponymous. I looked it up and apparently it means "something or someone that gives its name to something else." So, pretty much, this challenge is asking you to name a title which is named after a character within the book.
I'll go with Emma by Jane Austen. It's the first example which comes to mind.
Name a book turned into a movie
The first one I can think of is The Mortal Engines by Philip Reeve. The book was really good, the movie was…okay. I didn't hate it as much as a lot of people did, however.
Until next time…
Would you be able to do this challenge just using recall? I know I struggled, and gave up on a couple, but I was happy that I could think of most of them.
As always, I'm not tagging anyone, but if you want to do this challenge, I'd love to read your answers! Let me know your thoughts on this challenge and the books I picked in the comments, follow my blog for more musings and, as always,
Best wishes in your life full of adventure,
Madame Writer