I've been writing for years, and have done so much research on how to write I'm rather surprised that my brain hasn't exploded already. However, along with all the amazing advice I have found, there has also been the advice that either I thought instantly was horrible or now that I am older I realize actually inhibited my writing ability.
However, I want to give a quick disclaimer before I get into my list. This is my personal list of writing tips I found to be very unhelpful for me. But keep in mind that every writer is different, and some of this advice, while not helpful to me, might be amazing for you. Now that the disclaimer is out of the way, let's get into the tips.
Write What You Know
I heard this advice so often, both from my teachers in college and various writing bloggers/books. I hate this advice, because it is extremely detrimental to creative writing. There is a great picture on Pinterest that rather examines the idea of what you know.
So, my question is, if you actually write just what you know, how little will that knowledge be?
Let's take me, for example. I love Asian history. Korea, China, I can't get enough of researching it. However, in college I was frequently told I shouldn't write a story set in Asia, because I have never been to Asia and I'm not Asian.
The same should apply then to historical novels. Because every author setting a book in Ancient Egypt cannot possible know that era. They have never been there. Yes, they can piece together research done by modern historians, but they did not know.
This is why I think this advice is so dangerous, because we are constantly realizing how little we know on any topic. But if we write about that topic, we are forced to learn more about it, broadening our knowledge.
So don't write what you know; write what you want to and through that know more.
Don't Use Adverbs
There is a lot of ridiculous grammar advice out there, like avoid the passive voice and don't use 'very' (do both, it's fine), but none bothers me more than adverbs. For those who don't know, adverbs are words which modify verbs, adjectives, nouns, etc. Words like moderately, now, fast, always, terrible, suddenly…you get the point.
This is one of the worse advice I have ever heard. Adverbs are so important is giving relation to time, distance, and more. They are quick ways to give your readers a picture of what is happening when.
I understand that some writers can overuse adverbs, often to the detriment of the narrative, but using adverbs in general should be encouraged. The same argument of not using adverbs could be given about sentence variance (you know, the unwritten rule that you should vary sentence lengths and structure to give variety to the reading experience). To ban adverbs is completely ridiculous.
If you want to use adverbs, do it and don't let anyone tell you you shouldn't.
Start at the End
This is common advice I hear when starting a story. The point of it, I believe, is to know where the story is going. In that case, I can understand the point of the advice. For example, if you know where you want to end the story, you will know what to work towards. However, if you literally start at the ending (meaning write the ending before the beginning), you set yourself up for failure.
When it comes to planning a story or novel, often times as you are writing you are problem-solving as you go. You may get to know your characters more and realize they are taking the story in another direction. Or you may realize the ending you wrote in the beginning is actually way too obvious and your foreshadowing lacks subtlety.
My point is that you can formulate the end in your head, but DO NOT think that you must follow the original course. You don't know how many times I have ruined my stories by insisting that I must stay on the plot-line I planned in the beginning.
So, start wherever works for you. Start at the beginning or the middle or the end. But don't assume that starting in one place will be the perfect formula for creating a perfect book.
You Have to Join a Writing Group
I have been in several writing groups, both online and in person. I can say now that sadly none helped me. If fact, most of them were highly harmful to my writing.
I'm currently going through Brandon Sanderson's lecture series on Youtube (if you haven't checked it out and you're a writer, I highly recommend it) and he talked briefly about a discovery writer, which is exactly what I am. He talks of how a discovery writer should never share their story when writing the first draft, because they are still figuring out where they want their story to go. Unfortunately, that is exactly what I did, and though I liked most of the people in the groups I was in, we were all inexperienced writers who didn't know how to give or take criticism (myself included).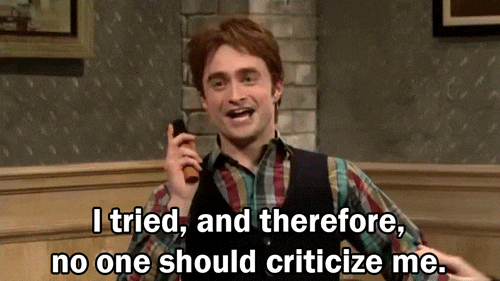 What I'm saying is that writing groups are not for everyone. Yes, they can encourage you to write more, but it might also influence your writing to move away from what you would naturally write and towards what the other writers expect or want you to write.
Saying that, I know of some writers who find writing groups to be very important. But they are not necessary for all writers to join.
Conclusion
I've already wrote an entire post of why Show, Don't Tell is a Lie, and there are probably some terrible tips I've missed.
Do you agree or disagree with my list? Also, are there any horrible tips you would have added? Let me know your thoughts down in the comments, follow my blog for more musings and, as always,
Best wishes in your life full of adventure,
Madame Writer