For those who don't know, tomorrow is Mardi Gras. As I know some of my readers who aren't in the US, Mardi Gras (also known as Fat Tuesday) originally started as a celebration before Lent (beginning the next day on Ash Wednesday). Traditionally, Lent is a time of fasting in the Catholic Church, so Mardi Gras was a celebration day (or week) before where you could eat the things you couldn't eat during Lent. Pretty much, it was a way to eat up a lot of food that would spoil over Lent if not eaten beforehand.
Nowadays, though, most people probably don't know anything about the origin of Mardi Gras, and instead think of a week of debauchery, drinking, and partying. Perhaps the biggest celebrations take place in New Orleans, Louisiana. I've never been to New Orleans during this celebration, and I don't think I would want to. Apparently, it's pretty much an excuse to do drugs and get drunk, two occupations I have no interest in.
However, I discovered this book tag in celebration of Mardi Gras, and so I figured it would be fun to do. Here is a link to the original tag video at RandomlyBookishGina.
1. Designated Driver: What re-read book is reliable to get you out of a reading slump?
Is it weird that I've never been in a reading slump? Sure, I've been too busy at some points in my life to read outside of school, but never did I feel I didn't know what to read. Saying that, whenever I don't have the time to read a serious book, this is my go-to book to reread. I've mentioned this book quite a few times on my blog, but I never get sick of reading it.
2. The Drunk Best Friend: Which character(s) would you like to grab a drink with, or simply hangout with for a night on the town?
Death from the Discworld Series
I personally think Death would be awesome to hang out with. On one hand, he's takes everything literally. Also, since he's Death, he doesn't really drink. But he would be the best person to hangout with for a night on the town.
3. Fat Tuesday: Which book on your TBR can you not wait to devour?
After reading and loving Crime and Punishment, this is the next long book on my TBR I can't wait to devour! I just have to finish Les Misérables first…
4. Lent: Which genre would you give up reading for 40 days?
Classics
The point of Lent is to give up something you will miss. Since I'm currently on a classic book binge, classics would be the hardest genre for me to give up during Lent.
5. Masquerade Masks: Which book do you mask that you have read? (Ex: a book you're embarrassed about, a book or author you're embarrassed by having not read yet, a guilty pleasure book, something you hide behind etc.)
Since I'm not embarrassed about any book I've read and I don't think I have a guilty pleasure book, I'm going with the book/author I'm embarrassed by having not read yet. I have read The Hobbit by J.R.R. Tolkien, but I haven't read the three books of The Lord of the Rings, of which my sister never lets me forget. Everyone I know who has read the books absolutely loves them and I do want to read the series eventually. I just haven't gotten to it.
6. The Annual Mardi Gras Party/Parade: What classic could you read time and time again?
I know, I know, it's such a cliched answer, but I love this book so much. It never seems to get old, even after reading it nearly a dozen times!
7. New Orleans: Which fictional place would you like to party?

You've got talking animals, magic God-lions, and Turkish Delights! Why wouldn't you want to party in C.S. Lewis's Narnia?
8. Jazz Music: What book just makes you want to dance? (Could be when you received it or as you read it)
Any book I receive as a gift! Anyone who knows me knows my favorite type of gift is a book. Because I don't have that much money to afford buying lots of books, every time I receive any book as a gift, I do a little dance inside!
9.The Colors of Mardi Gras: Purple represents justice: Which character do you feel got justice at the end of the book or series? Green represents faith: Which character would you put your complete faith in, no matter the situation? Gold represents Power: Which book gave you a very powerful emotion after reading it?
Alright, those have three questions in one, so I'll answer them in order.
Rodion Raskolnikov from Crime and Punishment
He did kill three woman, and he does receive punishment for his crime, so I would say that justice has been served!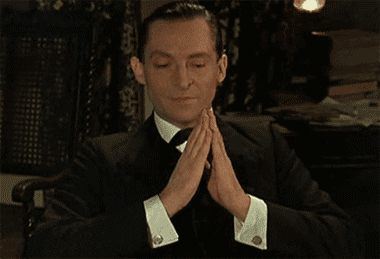 Sherlock Holmes
God from the Bible? Not a character, I guess. Instead, I'll go with a fictional character. Sherlock Holmes seems like a good person to rely on. He's brilliant and can figure out the most complex case, but he's also a moral, good person. I'm talking about the Holmes from the books, by the way, as all the TV series present him as being quite different.
As for the emotion question, I'm going with this recent read. I left it feeling very emotional, mostly because of the horrible incidents described in this book. It took my a few hours to feel like I wasn't so traumatized.
So, there you have it! I hope you eat and don't party too hard this Mardi Gras! As always, I'm not tagged and I'm not tagging anyone, but if you do end up doing this tag, I'd love to read your answers. Do you have any traditions for Mardi Gras? Let me know your thoughts down in the comments, follow my blog for more musings and, as always,
Best wishes in your life full of adventure,
Madame Writer