Christmas Eve is exactly two weeks away from today (Monday, Dec. 10), so I thought I'd do a few book tags this month. Unfortunately, I have searching for some good ones for weeks and had yet to find any I liked, mostly because the questions were pretty generic and ones I've answered multiple times (like what's your favorite book, etc.). That is, until I found this one.
This book tags comes courtesy of The Artsy Reader Girl. 
1. "All I Want for Christmas Is You": Favorite bookish couple.
I have a few, but recently I re-watched the BBC adaptation of North and South by Elizabeth Gaskell. It's one of my favorite books and movies and I just love how Margaret Hale and John Thornton's relationship grows over the cross of the story.
2. "I'll Be Home for Christmas": Name a book where a character is away from home (school, vacation, etc.).
There's so many great books that take place away from the characters' homes, but I'm going with The Mysterious Benedict Society by Trenton Lee Stewart. It follows four brilliant children who go undercover to the
Learning Institute for the Very Enlightened. The book has a similar tone to The Series of Unfortunate Events. However, I've only read the first book so I cannot speak to the quality of the sequels (I really should pick up the rest of the books).
3. "Have Yourself a Merry Little Christmas": Name your favorite "little" book (children's book, short story, novella, etc.).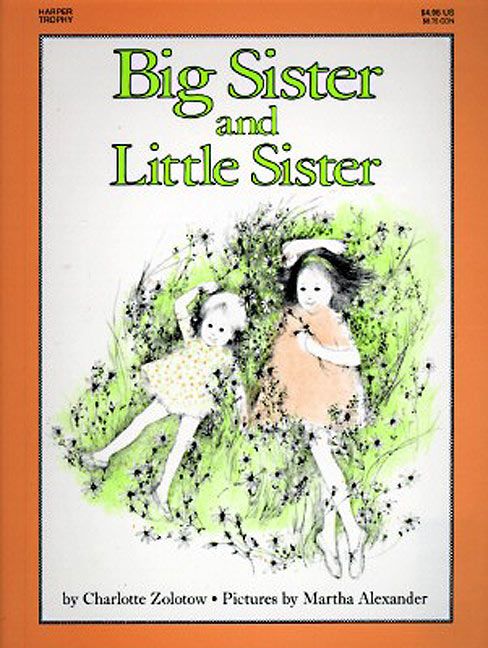 Again, I could choose a lot of different books, but I'm picking Big Sister and Little Sister by Charlotte Zolotow. I loved this picture book growing up, as I am a little sister and have one older sister. I don't know where my copy of this book went, though. I haven't seen it in a few years.
4. "Santa Claus is Coming to Town": What book(s) do you hope Santa brings you this year?
Um…I don't know. I don't have any book I'm hoping to get as a gift this year. I will just see what books my family decide to buy me from my Amazon wish list.
5. "Rudolph the Red-Nosed Reindeer": Which book turned your nose red (made you cry)?
It's rare that I cry while reading books, but when I first read the death of Beth in Little Women by Louisa May Alcott I got pretty teary-eyed. Even when I read it now as an adult, it's still a sad scene.
6. "The Most Wonderful Time of the Year": Your favorite book/kind of book to read during the holidays.
I don't have a specific book I read during the holidays. However, I do tend to like to read cozy books (cozy mysteries or just happy, light stories). That, or any book set during winter or Christmas time, like A Christmas Carol by Charles Dickens.
7. "We Three Kings": Your favorite trilogy.
I honestly don't read a lot of trilogies. Either I read stand-alone books or extremely long mystery series. And when I do read trilogies (like Hunger Games) I usually like some of the books and hate others. However, I did enjoy most of His Dark Materials Trilogy by Philip Pullman. I liked The Golden Compass and I loved The Subtle Knife. Even if I really didn't like The Amber Spyglass, I still enjoyed this series, especially the fantasy world! 
8. "Let it Snow, Let it Snow, Let it Snow": A character you would love to be snowed in with.
Totally weird answer, I know, but if I were snowed in with someone, I would want it to be someone really brilliant so I would never be bored. So I'm choosing Dr. Laszlo Kreizler from The Alienist by Caleb Carr. I definitely liked him better in the book then the tv show, but in both he's such a brilliant psychologist and I would love to pick apart his brain!
9. "Last Christmas": A book that seriously let you down.
Usually, I try to keep my expectations low in case I hate a book, but with The Big Sleep by Raymond Chandler, I was disappointed mostly because I've never heard someone dislike this book. It's a classic noir and it's supposed to be a perfect example of the genre. But it was such a frustrating and disorganized book, from the clichéd characters to the meandering plot.
10. "White Christmas": An upcoming release you're dreaming about.

I usually don't get super excited about new releases. However, this year I read A Death of No Importance by Mariah Fredericks (a cozy historical mystery) and I really liked it. I noticed the sequel, Death of a New American, is going to come out April, 2019, so I'm excited to read it. Though I'm probably not dreaming of it…
As always, I'm not tagged by anyone and I'm not tagging anyone, but if you do do this tag, I'd love to read your answers. Have you read any of these books? What's your favorite Christmas song? Let me know your thoughts down in the comments, follow my blog for more madness and, as always,
Best wishes in your life full of adventure,
Madame Writer